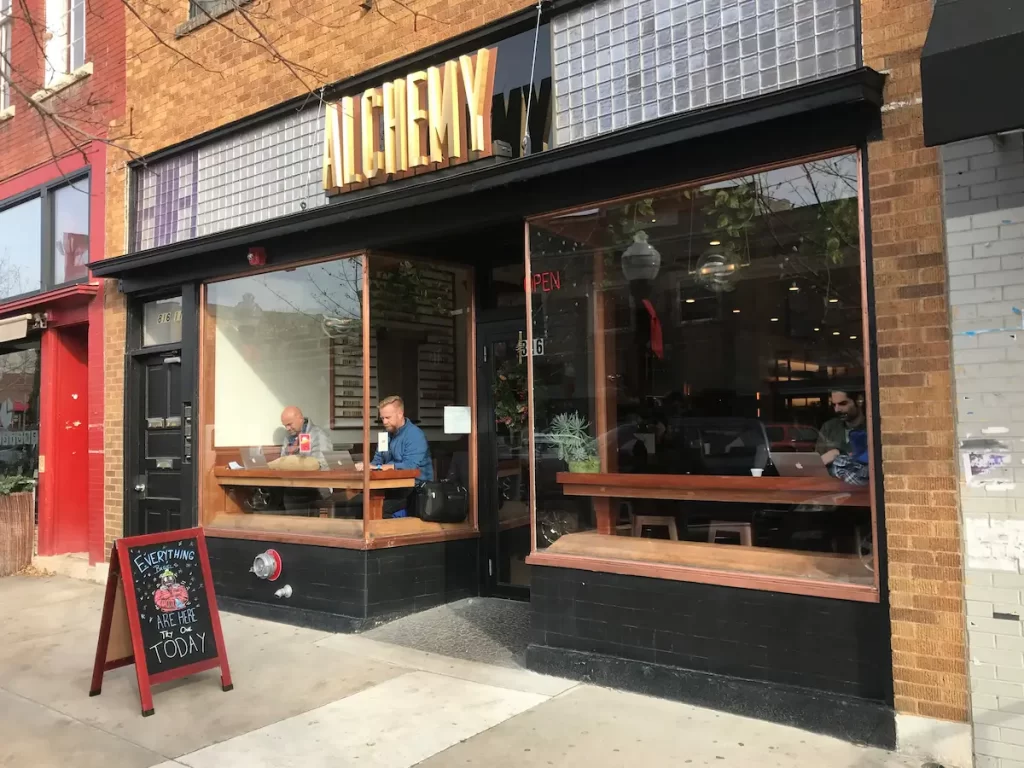 Alchemy Coffee & Bake House
Lawrence, KS (2017)
Lawrence's Downtown Historic District comprises the core of the historic central business district of Lawrence, Kansas.  Buildings within the district are associated with various periods of Lawrence's development.  816 Massachusetts retains a great degree of integrity from the circa 1900-1945 period, "A Quiet University Town".  Historic photos show elements from this period still in place from when "Brinkman's Bakery" was located on the ground level.
Prior to the start of construction, the building had been used for various retail uses including most recently a children's consignment clothing store.  Three small apartments were on the second floor.  Remodeling of the second floor was not part of the project though building code upgrades including fire suppression and emergency lighting.  The ground floor of the building is again being used as a bakery just as it was in the circa 1937 photos.
The Massachusetts Street façade is a two-story buff/brown brick with an inset storefront glass entry.   Prior to start of the project, the transom area was covered by a painted plywood panel which was the mounting place for decades of business signs.  Removal of the plywood panels revealed a full-building-width, prismatic glass transom window in poor condition. The transom condition was evaluated, and as part of the project, it was fully restored.  The glass "Brinkman's Bakery" sign discovered in the middle panel was retained, preserved, and is now used as a feature element. Character defining elements of beveled oak historic window display bulkheads were retained while allowing new window seating in the display alcoves flanking the recessed entry door. Monolithic, single-pane plate glass display windows were retained and original copper trims and flashings were restored and polished.  All other trim elements on the storefront were cleaned, repaired and refinished.
An interior photo of the Brinkman's Bakery circa 1930 showed a decorative ceiling treatment in the retail portion of the bakery.  This ceiling was discovered, still intact above a modern acoustic grid ceiling although it had been damaged by plumbing and electrical installations.  The historic ceiling was revealed and restored; missing crown moldings were replaced.  The circa 1937 historic interior photo showed a demising wall between the bakery retail area and the working bakery behind.  While that wall was no longer in existence, a change in ceiling materials now marks that transition.
New ADA accessible bathrooms were located along the south wall and a new commercial kitchen was designed along the north wall with partial height walls.  The design configuration allows natural light to shine in above the new walls from both ends of the business and the result is a bright and lively space. Other interior historic finishes that were retained and restored were the plaster walls and diagonally set wood strip flooring.  Both of these elements were patched and refinished.  Exterior features restored include a steel fire escape fixed to the upper, east wall, wood windows and plastered stone on the upper east and north walls.